Clinic Participation
Participants are needed for some clinics. If you would like to participate with a particular clinician and/or offer your horse for a clinician's use, print and complete the application and send it to our office (email at . A photo and/or short video is helpful in the evaluation (and required for some clinicians).
Please apply for the session or sessions specifically that interest you. We prefer you select one primary clinician of interest.  Thank you.

Some things you need to know if you are selected to participate:
A pass will be given to you for the day(s) you participate.  If the participant is under the age of 18 two passes will be provided.
You are required to stall your horse while at the expo.  Because of the limited parking and general congestion and activity and weather concerns we are firm on this.
There will be a $65 fee to participate – this covers your stall. (do not send this with your application – it will be due once you are confirmed to participate)  Fee does not apply if you are participating in a breed or stallion demo with the same horse you will use in the clinic.
Arrival and departure times are restricted – again primarily due to congestion and parking. Those details and times will be confirmed with you if you are selected.
All applicants will be notified of their acceptance status.  We will do our best to have selections confirmed by March 1st.
Please keep in mind the expo is a very different setting from regular horse shows. The environment is more active, the crowds can be unsettling and warm-up time is very limited.  Please keep in mind when applying to participate your horse should be able to be stalled at the minimum for a day and should not only fill the needs outlined below, but be able to handle the environment and not create additional challenges in the clinic because they cannot handle the environment.
Find application here:  Clinic Participant Application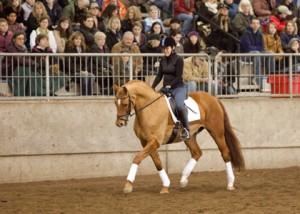 (print and email to jjcloe@equinepromotions.net)
Needs for Clinic Participants: – coming for 2023
Chris Cox
Friday – "Finding Softness Through the Reins, Feet & Seat" – looking for 2-3 intermediate riders, can be either English or Western, and naturally gaited horses are welcome as well.  Perfect for riders struggling with their seat/ balance and riding correctly.  Must be able to walk, trot and canter on a loose rein.
Friday – "Is It Me or Is It My Horse?" – looking for 2-3 intermediate riders that are struggling and can't seem to figure out what the problem is.  Could be a headset issue, or any basic problem.  NO Green broke horses and NO bucking issues for this session.  Must be able to walk, trot and canter on a loose rein.
Saturday – "Ground Work in Preparation for Riding" – looking for 2 horses.  Ideal horses for this session are horses that are pushy on the ground, walk over the handler and have no respect.  Often rescue horses are a good fit for this clinic.  Owners will work with their horses in this session.
Saturday – "Building the Rider's Confidence" – looking for 2 riders.  Perfect for the rider that has had a traumatic or terrifying experience with a horse and is trying to build their confidence in riding again.  Rider should be able to walk, trot and at least be willing to try to lope.  In this submission video, please show the rider ON their horse and show where they are lacking confidence.
Sunday – "Eliminating Head Tossing and Creating Softness" – looking for 2 riders for this clinic.  The ideal horse for this session is one usually ridden in a tie-down or has a high, natural headset.  Horse may pull and root on the bit or carry it's nose in the air and lacks control and has no collection.  In the video submission please show the horse being ridden WITHOUT a tie-down or headset restraint.  NO Green horses.
Julie Alonzo
Friday – "Working Equitation Obstacles: Drums, Bull Line, Bell Corridor and Single Slalom"
Saturday – "Working Equitation Obstacles: Figure 8, Switch Cup, Bull Line and Double Slalom"
Sunday – "Working Equitation Obstacles: Side Step, Bull Line, Drums and Rounding Posts"