Stallion Review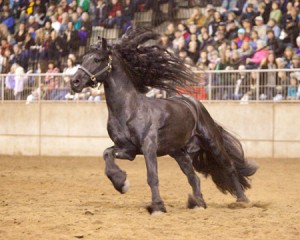 Stallion Review is one of the most popular daily demonstrations at the Northwest Horse Fair & Expo
The purpose of "Stallion Review" is to showcase stallions of all breeds of equine to both prospective breeders and equine enthusiasts wishing to learn about each breed. These fine representatives will be stalled in a designated "Stallion Review" area. This area will be limited as space allows. A daily "Review of Stallions" will occur in one of the main arenas to allow the spectators to see the stallions out of their stalls and hear a short 2-3 minute description of the breed and stallion. Participation in this area will not only provide contacts for potential breeders, but also serve as an educational opportunity to promote your chosen breed to the public.
Stallion Review info & application
To request an application or ask questions, email our office at .
Stallions Participating in 2019