Special Events
Returning for a second year….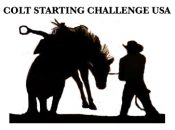 If you love horses, you will enjoy watching experienced horse trainers from around the country gentle, start and ride unbroke horses in just a few hours – with sessions Friday, Saturday and Sunday of the expo.  How is this possible?  These horse trainers are not only very talented, but they are using Natural Horsemanship methods. This technique speeds up the process of starting and gentling a horse.  Our event is not only to entertain you, but also to educate you about how a horse thinks, operates, and responds to a Horse Trainer's cues using body language.  Watch and listen as each trainer takes turn explaining what they are doing and why, as they all work their horses at the same time.  You will see the unique personalities of not only the horses, but also of the contestants and their original concepts to starting colts.
Visit Colt Starting Challenge USA for more details
Are you Interested in participating??
We will not only need competitors for this event, but also horses.
Colt Starting Challenge USA will oversee all aspects of the competition including the application process for horses and trainers.
New Activity Area in 2020
New in 2020, you can find activities for both youth and adults in the new Santiam Corral, located at the back of the Santiam Building, behind the vendors.
This area will offer both fun and education.  Some of the activities include:
BlackPearl Friesian Dance Troupe Photo Sessions * (for kids and adults)
Gypsy Horse Beauty Salon (hands on session for kids to groom and pamper a live Gypsy Horse)
Oregon Farrier's Association live shoeing demo
Saddle Fit seminar
Equine Massage seminar
* More information on the BlackPearl Friesian Dance Troupe Photo Sessions
What? The troupe will be offering daily photo sessions for horse lovers of all ages, with a live horse from the troupe.  You can select your costume from the troupe wardrobe available in the booth – many worn by the Pearls themselves.
Where? In the new Santiam Corral in the back of the Santiam vendor building.
When? Daily sessions will be offered at specific times
Friday 3:30 – 4:00

Saturday 4:30 – 6:00
Sunday 1:00 – 2:00
Fee?  A suggested donation of $20 to enable the troupe to continue their charitable work
Slots will be limited.  Anyone interested will need to sign up in advance at the expo in the BlackPearl Friesian Dance Troupe booth near the front of the Santiam Building to ensure a time.