Special Events
Exciting things are planned for 2017!
---
Mustang Adoption Challenge
Put on by Teens and Oregon Mustangs, this exciting event will follow 3 divisions of competitors: Teens in hand (with Yearlings), Teens Riding and Adult TIP – through several different phases of competition with their recently acquired wild Mustang.  It will all start THURSDAY, March 23rd, with events taking place each day of the expo culminating in the finals and awards on Sunday.  Immediately following the results Sunday, there will be a live auction of all the participating Mustangs.
Follow the progress of the trainers and their Mustang Partners by visiting Teens and Oregon Mustangs and selecting the "Trainers and Horses" link.
Competition Schedule: All events take place in the Akins Trailer Sales (Calapooia) Arena
Thursday, March 23rd 6:00 pm "Body Scoring and Showmanship"Friday, March 24th 6:00 pm "Youth In-Hand Trail & Freestyle Competition"
Saturday, March 25th 9:30 am – 11:30 am "Youth Riding Competition and Purina Body Conditioning Showdown"
Saturday, March 25th 6:00 pm "Adult Riding Competition"
Sunday, March 26th 1:30 pm – 5:30 pm "Results, Awards and Live Auction"
Online bidding for the auction will open in March 1-15
Online bidding will open March 1 through 15. It will close midnight on March 15 till the day of the live auction. Bidders must fill out a BLM Adoption Application and be an approved bidder. Bids need to be submitted to
  Please be sure to email
Your name
The horse's name you are bidding on
Your bid amount
A contact phone number
We will call you to confirm your bid and request a credit card number to hold the bid at the live auction  (note: the card will not be charged until the final live bid closes)
---
BreyerWest

®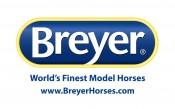 Located in the Santiam Building, BreyerW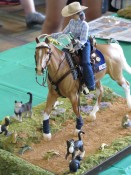 est is a fun model horse event featuring model horse hobby demonstrations, model horse shows and fun craft for kids and adults and some of the real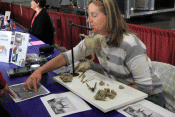 horses that inspired the Breyer portrait models!  The combination of BreyerWest and Northwest Horse Fair and Expo offers horse lovers a wealth of practical real horse information and learning, along with model hobby artistry and crafts and lots of fun for children.
The complete schedule and list of available workshops can be found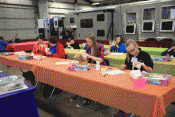 on Breyer's official website, www.BreyerHorses.com, along with information on how to enter model shows and workshops, and other event details. Pre-registration is required for the open model horse show and strongly encouraged for the youth and novice model horse show.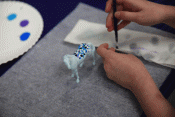 To Enter one of the shows or volunteer click here: http://www.breyerhorses.com/breyerwest17
See a daily schedule here: https://breyerwest.wordpress.com/schedule/
BreyerWest offers FREE miniature model horse painting for ALL KIDS 18 and under!  Paint your own custom creation to take home.  Visit their area in the Santiam Building!