Special Events
Mustang Adoption Challenge
The Mustang Adoption Challenge hosted by Teens and Oregon Mustangs will be returning to the 2018 Northwest Horse Fair & Expo.
This event will feature three divisions of competitors: Youth in Hand ages 10-18, Teen Riding ages 14-17 and Adult Riding ages 18+ – showcasing their training progress with their Mustang just 100 days out of the wild.  The competition will take place every day of the expo and will feature a live adoption of the participating Mustangs at the conclusion on Sunday, March 25th.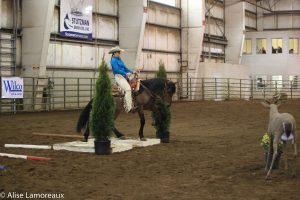 visit the Teens and Oregon Mustangs website for details on how to apply to participate!
Trainer Notification November 4, 2017
Mustang Pick-Up December 2, 2017
Competition Schedule:
All events will be held in the Akins Trailer Sales (Calapooia) Arena at the Northwest Horse Fair & Expo
Thursday 6:00 pm – "Showmanship and Body Condition" there is no admission fee for the Thursday evening session – none of the barns or expo buildings will be open to the public on Thursday evening.
Friday 6:00 pm – "Youth In-Hand, Teen In-Hand and Freestyle"
Saturday 9:30 am – 11:30 am – "Teen Riding and Body Conditioning Showdown"
Saturday 6:00 pm – "Adult Riding"
Sunday 1:30 pm – "Results, Awards and Auction"
---
 BreyerWest® 

BreyerWest is a fun model horse event featuring model horse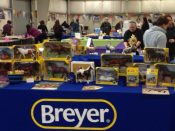 hobby demonstrations, model horse shows and fun equine related crafts for kids and adults.
A number of equine artists have been recruited to teach workshops and seminars and to judge model horse shows for 2018.  The event will include an Open Model Show on Friday.  Saturday will feature workshops and model signing.  Sunday will offer a Youth/Novi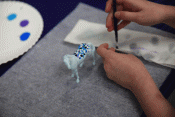 de Model Horse Show.  Every day will offer Free Stablemates (miniature model horse) painting.
Information on entries, the complete schedule and list of available workshops can be found here: BreyerWest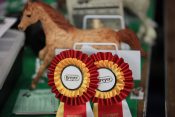 ---