Breed Showcase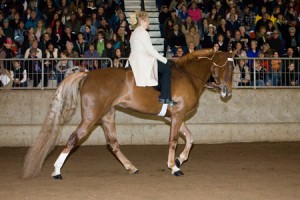 The purpose of the Breed Showcase is to showcase the many breeds of equine to both horse owners and equine enthusiasts. These fine representatives will be stalled in a designated Breed Showcase area. Participants in this area will be promoting their breed and/or discipline in short exhibitions in one of the main arenas. All horses attending the event must participate in the demonstration. This area and it's corresponding demonstrations serve as an opportunity to educate the attendees, in an entertaining manner, about the various breeds that comprise the equine world.
Click here for 2018 Breed Showcase Information & Application 
For additional information on the Breed/Discipline Showcase select the link below or email our office at .
 Attending in 2018

Andalusians & Lusitanos
Cascade Icelandic Horse Club
Northwest Peruvian Horse Club
Oregon Gypsy Horse Association
Tarpan Horse
Tennessee Walking Horse Exhibitors Association of OR