Special Events
All Breed Challenge
Presented by the Northwest Horse Fair & Expo
An exciting competition for all breeds and riding disciplines!
The All Breed Challenge is a timed and judged competition through an obstacle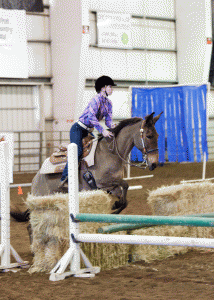 course that will test the abilities of each horse/rider team as they execute familiar and new maneuvers that push them out of their traditional "comfort zones". In each preliminary round up horse/rider teams will attempt to conquer a timed course made up of tasks that can include jumps, dressage, reining, trail obstacles, speed events, ranch versatility and more. See gaited horses, dressage horses and western horses and mules go head to head in this fun and challenging competition and compete for $3,000.00 in cash prizes, and the title of "Northwest Horse Fair & Expo All Breed Challenge Champion."
This event is open to riders 12 years or older from all disciplines including western, dressage, hunter/jumpers, trail riders, natural horsemen, gaited horse riders, mule lovers and more.
Each team's performance will be judged by the following criteria:
Accuracy/correctness: How faultlessly did the horse/rider team run the course?
Horsemanship: How well did the horse/rider team communicate and execute each maneuver?
Attitude of the horses: Were the horses willing partners and trusting of their rider?
Time: Time points will be allotted for all horse/rider teams from fastest to slowest with the fastest riders receiving 12 time points and the slowest 1 point (in the preliminary and 10 pts. to 1 pt. In the semi finals)
In the final challenge the four top scoring competitors and a fan favorite will ride a new, more advanced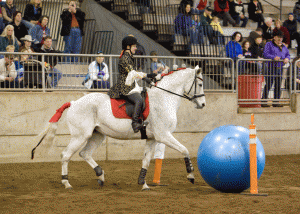 course with a twist, plus ride a freestyle performance of their creation!
The course in the finals will be a "Gamblers Choice" format. Each obstacle will be awarded a point value for difficulty. Competitors may chose what obstacles they want to negotiate within a pre determined time limit. A number of obstacles will be designated as required obstacles and bonus points will be awarded for completion of all obstacles. Refusals will be penalized. Judges will additionally score contestants over each obstacle attempted/completed.
Freestyle performances should be approximately 3-4 minutes (not to exceed 4 minutes).  Music, costumes and limited props may be used.  Participants must bring their own props.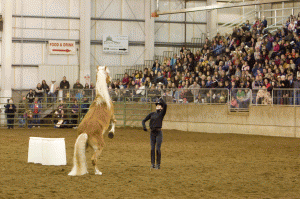 The judges will apply the same criteria as above to the final course run.  The freestyle will be judged on entertainment and creativity as well as horsemanship.
Don't miss your chance at the 2014 Northwest Horse Fair & Expo All Breed Challenge to show off the partnership you have with your horse!
Information on participating will be available later this summer